One of my favorite things to smoke are ribs. However, sometimes you just don't want to deal with those pesky bones. The solution? Country style ribs! These aren't really ribs but instead are made by slicing pork steaks (from the shoulder or butt) into rib-sized pieces and then smoking them, allowing you to get all of the rib goodness in one meaty chunk.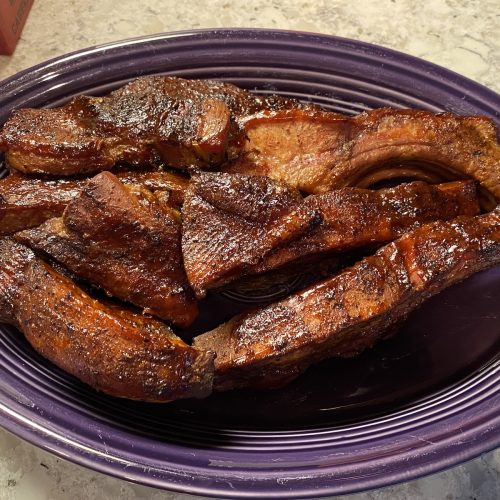 Country Style Smoked Ribs
Easy to make and fun to eat, these ribs give you all of the meat and none of the bone. That sounds dirty.
Ingredients
1/4

cup

Favorite rib rub

1/2

cup

Yellow Mustard

2 1/4

pounds

Country Style Ribs

1/2

cup

Your favorite BBQ Sauce
Instructions
Preheat your smoker to 225° and add some hickory or mesquite wood.

Brush the ribs in the yellow mustard.

Apply the rub liberally to the ribs. (You can do this a few hours before or even overnight if you like.)

Place ribs in the smoker and cook for 3-4 hours until the internal temperature of the ribs is 195°. If the ribs are on the leaner side and don't have a lot of fat, cook them until 165° so they don't dry out. During the last 30 minutes you can sauce the ribs if you like or just leave them with the rub. They are great either way.