With the cooler weather coming in, sometimes I just don't want to go outside to cook and need a good meal to warm me up. And some wine, too. This recipe combines tender short ribs with the rich flavor of red wine over whatever starch you are craving at the time. Plus all it takes is a bit of searing, some simmering and then you throw it in the oven until it is done. If you can make a stew, you can make this. It's perfect after a long day out in the cold hunting monsters and will keep your family happy to boot. Just be sure you save some wine for yourself too.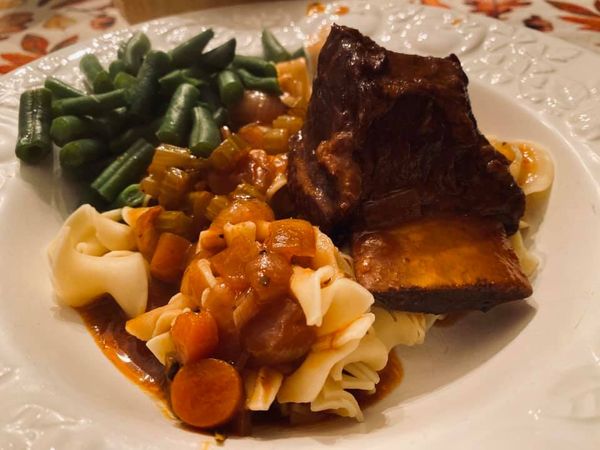 Red Wine Braised Short Ribs
A nice and hot meal for a fall day that features the tastiest short ribs around.
Ingredients
8

pieces

short ribs

1

tbsp

kosher salt

1

tbsp

coarse ground black pepper

3

tbsp

olive oil

3

medium

onions (chopped)

2

stalks

celery (chopped)

2

medium

carrots (chopped)

2

tbsp

flour

1

can

tomato paste

750

ml

red wine (may not use whole bottle)

1

tbsp

oregano

2

sprigs

rosemary

2

whole

bay leaves

4

cloves

garlic (chopped)

4

cups

beef stock
Instructions
Preheat oven to 350° (you can do this while you are simmering later instead if you want to save fuel)

Heat oil in a large dutch oven. You can add some bacon grease if you have it for added flavor. When the oil is hot, brown the short ribs on all sides. You may need to work in batches. Then set them aside.

Add onions, celery, carrots and garlic. Cook until onions are brown (around 5 minutes).

Add flour and tomato paste and stir together until everything is combined.

Stir in wine and then return short ribs to pot. Bring to a boil and then lower the heat so it simmers for 25 minutes to reduce the wine.

Add the rosemary and oregano, stir in the beef stock and bring to a boil. Then put the lid on and throw it in the oven for 2-2 1/2 hours until meat is fork tender.

Transfer short ribs to a platter and spoon the fat off of the sauce.

Serve ribs over mashed potatoes or egg noodles with sauce spooned over.